What do I need to order glasses?
Make sure you have the following in front of you to order a pair of well-fitted glasses accurate to your prescription (Rx):
1. A copy of your glasses prescription, no more than 2 years old.
2. Your pupillary distance (PD) should be written on the prescription. If not, please use our PD Measurement Tool.
3. (Optional) A pair of glasses/sunglasses that already fit you well. Note the set of 3 numbers located on the temple (arm) or nose bridge of the frame. Use our Fit Calculator to find frames that will fit your measurements.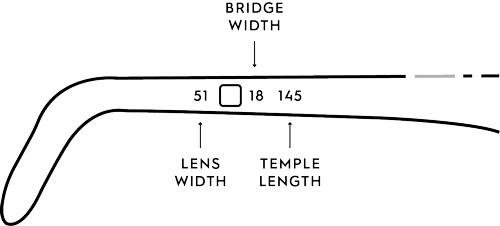 How do I read my prescription?
This is what a typical glasses Rx looks like: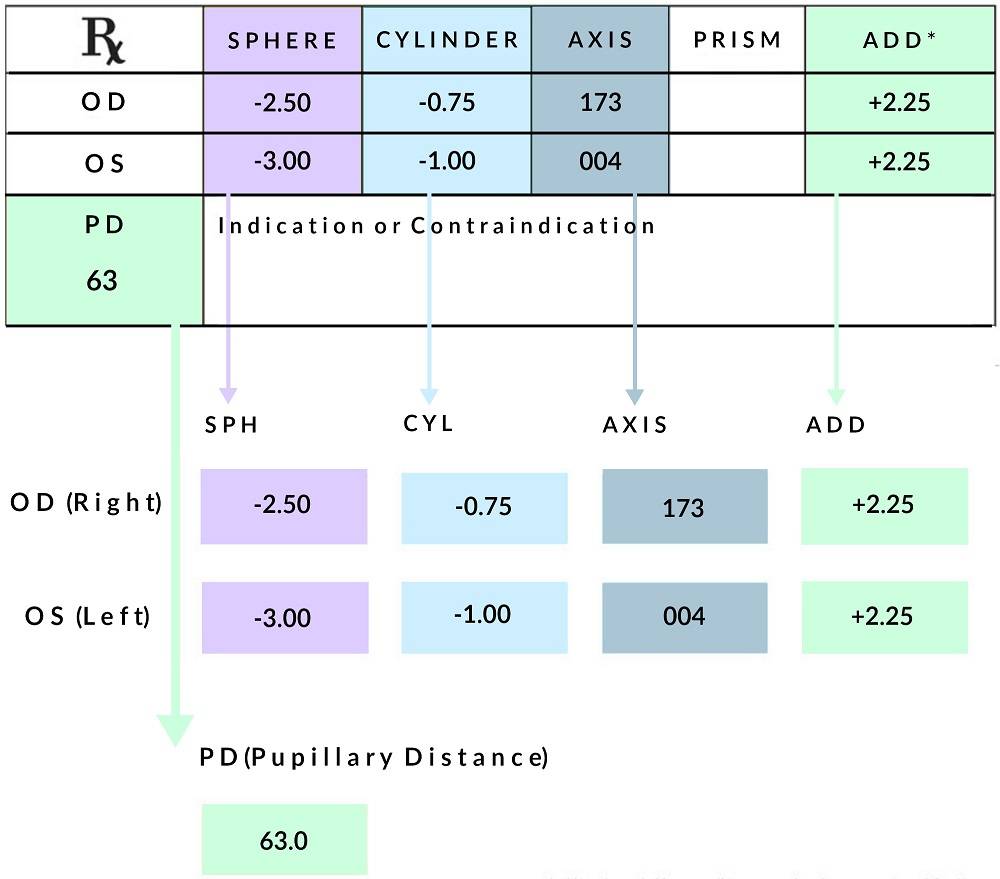 Sphere (SPH)

: +'ve value indicates hyperopia (farsightedness), -'ve indicates myopia (nearsightedness)
Cylinder (CYL): having a value here indicates presence of astigmatism. It can be written with + or -. - is usually written by an optometrist, whereas + is usually written by an opthamologist. They both mean the same thing.
Axis: having a value here indicates presence of astigmatism. Please note that 000 = 180 (they mean the same thing)
Both CYL and AXIS are needed together (cannot have one without the other!)
Add: This provides magnifying power for reading, progressive and bifocal lenses. You will have the same number for both eyes.
PD: Pupillary Distance:

Our Rx lab can process any single-vision Rx (which includes normal glasses for farsightedness/nearsightedness and readers) that fits in the following ranges: SPH -10.00 to +10.00, CYL 0.00 to -6.00
What is the PD? Where do I find mine?
Sometimes, your glasses prescription may not include your pupillary distance (PD), the distance between the centres of your pupils in millimetres. Your PD is absolutely mandatory when installing your prescription lenses for proper clarity and focus. If your PD isn't written on your prescription, it may be due to one of two reasons:
1. Your prescription is for contact lenses.
If this is the case, you'll see a contact lens brand on your prescription. The prescription here won't work for glasses, so you should go to your optometrist and request one. Alternatively, you can take an online eye exam on Opternative (not affiliated) from the comfort of your home.
2. Your optometrist/optician didn't give you one.
Optometrists usually omit the PD if they assume you're buying glasses from their shop (or for other motives). In this case, you can save the trip back and use our online PD tool.
How long does it take my order to ship?
All glasses are made to order (with the exception of frame-only options). The total shipping time is calculated as follows:
PROCESSING TIME
4-7 business days
TRANSIT TIME
7-10 business days*
Processing includes the time needed to craft your prescription lenses, mount them onto your chosen frame and pack your order. For sunglasses, this is around 4 business days; for glasses, this is 5-7. Transit is the time required for your chosen shipping method to deliver your order.
*7-10 business days refers to the default E-Express shipping method (free over $50). "Business days" excludes public holidays and weekends.
Standard Shipping (E-Express)
E-Express shipping is FREE for all orders above $50. For orders less than $50, a $5.99 shipping fee applies.
Courier Shipping (Surcharge)
You can choose from several couriers for express shipments, including UPS (no import tax for US residents), DHL, TNT, Aramex and DPEX. For Courier Shipping, the processing time is the same as above, but transit time is reduced to 2-7 working days depending on your chosen method. Exact transit times and charges can be found using the Shipping Calculator on the cart page.
Packages shipped outside Hong Kong may incur additional charges upon receipt. MOONSPECS is not responsible for any taxes, duties or other fees charged by your country's customs department. To avoid surprise charges, please contact the customs department or the postal service of your home country about their current policies.
Please use the tracking link you received in your shipping confirmation email or enter the tracking numberon this site: Aftership.
Does delivery require a signature?
Yes, to ensure accurate delivery, a signature is required.
This means that a recipient is absent during delivery attempt, the parcel will be sent to a local post office. A notice slip will be left at your address asking you to pick it up.
MOONSPECS is not liable for ay parcels that are returned due to failed retrieval from the post office. After the tracking number is provided, you are responsible for tracking your shipment.
What happens to packages that are misdelivered or returned to sender?
We hold no responsibility for parcels that are misdelivered or returned to us due to either:
Your supplying of a wrong, invalid or incomplete delivery address or details during order confirmation, such as but not limited to:

Recipient name
C/O name
Apartment or flat numbers
Dorm room or campus box numbers
Building names
College/university or business names
Mis-spelt or missing city, state or province, country, postal or zip code

Your failure to pick up your parcel at the post office if the addressee is unavailable during the initial delivery attempt
If your parcel is misdelivered:
In the event that your parcel is misdelivered or returned to sender) due to any of the above reasons, MOONSPECS cannot provide any compensation. This does not apply to errors on MOONSPECS' part, which will be courteously corrected.
If your parcel is returned:
Returned parcels can be resent once they have been received and checked to be free of any damages. The following reshipment fees apply:
For orders sent via standard shipping (E-Express): $7
For orders sent via any other method: fee calculated as per courier's rate
If you would like to receive a refund for items that have been sent back to us, the below Return Policies apply.
Here at MOONSPECS, we stand behind our products and service. If we happen to have sent you the wrong color, size or style, please contact us with your order ID within 30 days of receipt of your order. Clearly describe the problem, and best if you attach photos. Certain cases might require you mailing the item back to us. If we've found that we had made a mistake, we will be happy to send a replacement, or find a solution to ensure your satisfaction.
Please note that replacement or compensation does not apply if wrong prescription information was provided to us at the time of purchase.
30-Day Return/Exchange Policy
Because we want you to love your eyewear, MOONSPECS offers a 30-day no-questions-asked return policy on all regular-priced items starting from your delivery date. If you're looking for an exchange, hit us up on Live Chat or Messenger, where we will walk you through finding the best frame for your fit, style and prescription.
We accept returns and exchanges for eyewear frames and sunglasses. You may request for the refund back to your credit card or as store credit.
Unfortunately, we cannot accept returns/exchanges for prescription lenses due to the their customized nature. Refunds will exclude the lens retail cost, plus the manufacturer installation cost ($13/pair), plus any additional lens-related upgrades (e.g. coatings).
MOONSPECS must be contacted within 30 days of the posted delivery date documented on the online postal service or courier tracking system. Return shipping reimbursement is currently unavailable.
Returned items must be in original, unused, undamaged (resellable) condition, including tags, booklets, labels, stickers and any other packaging materials intact.
The customer is responsible for the shipping fees back to MOONSPECS. Please use whatever shipping method you prefer. We strongly recommend adding delivery and/or signature confirmation to prevent lost packages. It is the customer's responsibility to track and research any package shipped back to us.
Upon receiving your returned items and verifying that they are in resellable condition, the refund or exchange will be processed within 5 business days
Under no circumstances can damaged items be refunded or exchanged. In the event that a damaged item is returned to us, the customer is required to pay any shipping fees for sending the item back to them.
For exchanges, the customer will be invoiced for regular shipping fees ($5 for standard shipping, courier shipping at calculated rate) and any other price differential incurred. Exchanged items will undergo the above Processing and Transit times.
Sale and clearance items are final-sale and we will not be able to issue refunds or exchanges for them.
Order Change/Cancellation
Orders that have not yet started processing and placed less than 8 hours ago can be cancelled or amended. A 15% administration fee for cancellation applies.
This does not apply to items which we find to be out of stock, in the case of which MOONSPECS will contact you for either an alternative item or full refund.
Are MOONSPECS glasses covered by FSA or HSA?
Yes, since prescription eyeglasses are considered a medical expense, you can use your flexible spending (FSA) or health savings accounts (HSA) dollars at MOONSPECS.
Prescription eyeglasses (including readers), prescription lenses and prescription sunglasses are covered. FSA and HSA funds can be used regardless of whether you have vision insurance.
There is no limit on how many pairs of prescription glasses you can purchase with FSA/HSA dollars. You just need to know how much you have in fund savings.
HSA funds are accrued throughout the calendar year, with contributions from individuals (up to $3300/year) and sometimes employers, like with a 401(k). You need to be entrolled in a high-deductible plan (min. $1250) to be eligible for a HSA.
How do I use my FSA/HSA dollars to buy MOONSPECS eyewear?
Good news; you don't have to do anything special to buy prescription eyewear with FSA/HSA funds! If you have an FSA or HSA debit card, use it to check out, just like you would with a regular credit card. This saves you the hassle of having to submit a reimbursement form to your insurance provider.
If you don't have a FSA/HSA debit card, simply check out with a regular credit card, print out the order confirmation and submit it it to your FSA/HSA provider. Usually, you wll be required to submit a reimbursement form along with the itemized receipt (which is the order confirmation email).
When can I use my FSA/HSA dollars? When do they expire?
FSA
Generally, all of your FSA funds are available at the beginning of your coverage period, which is one calendar year starting Jan 1st. They usually expire by Dec 31st or Mar 15th. You may be eligible for carrying $500 of unused FSA funds from the previous year, or extending the expiry by 2.5 months, depending on your employer. FSA funds have a "Use it or lose it" policy - unused dollars will be lost once your coverage period is over.
HSA
HSA funds never expire. Any unused funds in your account roll over to the next year.
Can you accept insurance as payment?
MOONSPECS does not work directly with insurance providers at this time.
Depending on your provider and coverage plan, your MOONSPECS purchase may be eligible for reimbursement. We can provide you with an itemized receipt if needed. Please clarify the details with your insurer.
What are the payment options?
You can pay via Paypal, Visa, Mastercard and American Express. We are also big crypto supporters, so we accept Bitcoin, Ethereum, Bitcoin Cash and Litecoin as well. You will be directed to a secure payment page to enter your credit card information or to view our crypto wallet addresses during checkout.
My card was charged, but I didn't receive an email for my order!
Please email us with the recipient name, shipping address and last 4 digits of the credit card used to place the order. We will follow up on this within 12 hours and make sure your order is processed.